More and more these days dogs are becoming our service companions with sometimes even doing the smallest of task but important that make our lives better. Dogs are very capable of going out in public to restaurants, stores, airports, etc. The key to a successful service relationship with your dog is the training your dog gets from the trainer and most importantly the dog owner
Because of the gray areas with service dogs, many dog trainers are inflating pricing to accompany this gray area. I want my clients to understand the laws and rules that apply to this kind of dog training. Our dogs provide great services for all of us in our own personal way. I want to bring affordable training in an easy to understand way to work with your dog.
There is no legal process to register your service dog. Don't get caught in the online registration schemes. The airlines and public places of business rely on the dog owners to be upfront and honest about what their dogs can do in public. Just because there is no registration process your dog still needs to know how to behave in public places if that's the dog owners goal.
The service your dog provides is between you and your dog and there should be no reason to discuss this in detail with anyone else. By having a document or certificate that your dog has had professional training is helpful. I provide my clients with a training certificate on what their dog has been trained for and I take care of the registration on the Department of Transportation website to allow my clients to travel with their dogs in airports, train stations, etc.
Besides going out in public, the training is done in the dog owners home where the dog owner eventually takes over the training
Service Dog Training in Scottsdale, AZ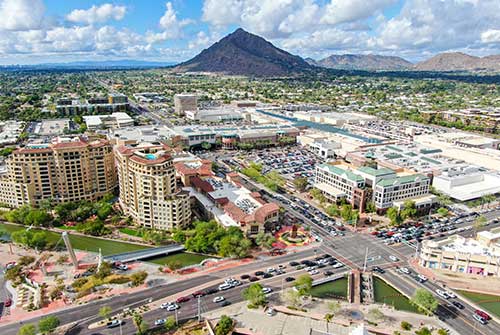 Situational Therapy Dog Training
Service dog training can be broken into three categories, and we offer comprehensive sessions for each situation. They are:
Emotional Support – Usually, these dogs are trained to identify panic attacks and anxiety. When the owner feels overwhelmed, the dog can comfort them and help them stay grounded and focused.
Therapy – In this case, dogs are trained to help others, not just their owner. Therapy dogs can help put patients at ease, so they're more receptive to the healing process.
Service – In addition to providing companionship and affection, service dogs are trained for specific tasks, such as bringing medicine or alerting others if the owner has a seizure. These tasks are highly specialized, requiring more sessions to ensure they take hold.
Do You Need the Help of a Professional and Effective Service Dog Trainer in Scottsdale, AZ?
Pricing
My training goes way beyond the sessions themselves. I am always available to my clients at no additional charges for as long as they need me.
Emotional Support – comforting the dog owner: $2,500- 6 sessions
Therapy – comforting others $2,500- 6 sessions
Service – performing a service for the dog owner, Seizure alert, Retrieving Etc. $3,500- 8 sessions